Broadview Housing Co-op is conveniently located in central Toronto, just north-east of downtown. We are situated at the top of the Don Valley, which provides for spectacular views of the city any time of the year.
The area to the south of us is fairly upscale, with beautiful early 20th century architecture on full display. Closer to, and north of, Mortimer is a more working- and middle-class neighbourhood home to large Greek and Chinese populations, with Post-War bungalows and half-splits the prominent housing style.
We are close to two shopping districts, several major parks, good schools, the subway, and just about any service you could imagine. There really are few places better situated than Broadview Housing Co-op.
Shops
There is a 24-hour Sobeys directly across the street from us, as well as a Loblaws on Broadview, just south of the Danforth. For budget-minded people, Food Basics on Pape is a short drive away, and a giant No Frills can be found on Carlaw, just north of Gerrard, approximately 10-minutes drive away. If organic foods are what you're after, there's no better place to go than the Big Carrot, which is only a 10-minute walk straight down Jackman Avenue.
We are also a short walk from both the Danforth, and its outstanding shops and services that cater to both the upscale and the grassroots-types, and Pape Village, which runs from Mortimer to just north of Cosburn. There you'll find a wide range of independent shops and restaurants, as well as Shoppers Drug Mart and every major bank.
Restaurants and Bars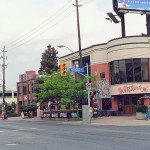 Broadview Housing Co-op is located in a prime area for restaurants. Everything from fast food to fine dining can be found within a short distance. The Danforth is, of course, famous for its restaurants, bars and pubs, and the Pape and Mortimer area is great for finding unpretentious, locally-owned eateries, mostly of Greek background.
In the immediate area, Whistler's is a good place for traditional pub food, and they have live jazz on their patio regularly during the summer. Dairy Queen is also located right at the corner of Pottery Road and Broadview, perfect for that cold summer treat – a very busy and popular spot in the warm months. Further south, you can find a variety of restaurants and cafés along Broadview, just near the Broadview subway station.
Parks
We are located atop the Don Valley, which is home to one of Toronto's largest natural areas. The popular Don Valley Trail can be found at the bottom of Pottery Road, where cyclists and rollerbladers (and hikers too) can venture south to the lake, or north all the way up to Edwards Gardens.
Next door to the co-op is the intimate Charles Sauriol Parkette, named for the famous environmentalist and conservationist. It's a great place to walk the dog or just hang out and enjoy the gardens and trees.
If you're willing to make a bit a of hike (about 15 minutes), Withrow Park is one of the nicest inner-city parks in Toronto, complete with sports fields, an outdoor hockey rink, and walking trails. Riverdale Park is located about the same distance away, on Broadview, and also has sports facilities and a swimming pool.
Attractions
Two popular local attractions are within a short walk of the co-op. Todmorden Mills is a historical landmark and cultural centre, complete with art gallery and community theatre space. Their spacious grounds are a wonderful place for a picnic, and also hold one of the largest wildflower preserves in the city. The Don Valley Brick Works is a fairly new attraction, which is the result of the re-naturalization of a former brick quarry. Right now, it's not easily accessible from the co-op on foot, but there are plans to develop a pedestrian and cyclist path to the site in the near future.
Transportation
Broadview Housing Co-op is easily accessible by car, public transit, foot and bicycle. We are conveniently located near the Don Valley Parkway for easy vehicle access, a 7-minute walk from Broadview subway station, with 24-hour bus service running right past the door, and also close to the previously-mentioned Don Valley Trail.